3 films de la série Energie ont été sélectionnés
au festival d'animation de films scientifiques de Riom
dans la catégorie prix du jury et prix du public
énergie #1
Sélection du film Energie#1 au festival Parisciences 
dans la catégorie E.toiles de sciences. 
Le monde durable de demain sera culturel !
Sélectionné puis primé au festival international des Deauville Green Awards
Notre petit film à l'honneur avec Caroline Pauchant
Parce qu'on n'a pas tous les jours un communiqué de presse sur son film, 
 alors pour le plaisir :
FESTIVALS SELECTIONS 2016 - 2017
série Climax // Surfrider // Doncvoila productions :
International Children and Youth Animation Film Festival / Varaždin, Croatie
Golden Kuker / Sofia, Bulgarie
Supertoon International Animation Festival / Šibenik, Croatie
Kinofest / Bucarest, Roumanie
Croq'anime- International Animation Film Festival / Paris, France
Bucheon International Animation Festival / Bucheon, Corée du Sud
Reanimania / Yerevan, Arménie
Festival du film d'animation de Bourg-en-Bresse / France
Un poing c'est court / Vaulx-en-Velin, France
Festival national du film d'animation / Bruz, France
SEFF Smaragdni Eco Film Festival / Hrvatska Kostajnica, Croatie
Festival du film de Portneuf sur l'environnement / Saint-Casimir, Canada
the Environment Film Festival Albania (EFFA) 2017 / Albanie
International Nature Film Festival 2017 / Gödöllő, Hongrie special award International Film Festival / Animations
la maraîchère est sélectionné 
au festival internationnal du film d'animation de Paris !
Le t de n-1 jour à Berlin au SCHAUBUDE Theater
PuppenFigurenObjekte - Le samedi 29 octobre 2016 à 20h

Le t de n-1 joue le 21 mai 2016 à guise !
Une super journée passée à Clermont avec Christine, Anne, Malika,
 les étudiants et toute l'équipe du master CELGJ. Merci Christine pour l'invitation !
Rencontre avec Claire Combeau autour de son magnifique projet Les traces habiles. A propos du dessin, celui qui aide à réfléchir avec la main.
Merci Catherine Mary pour ce bel article !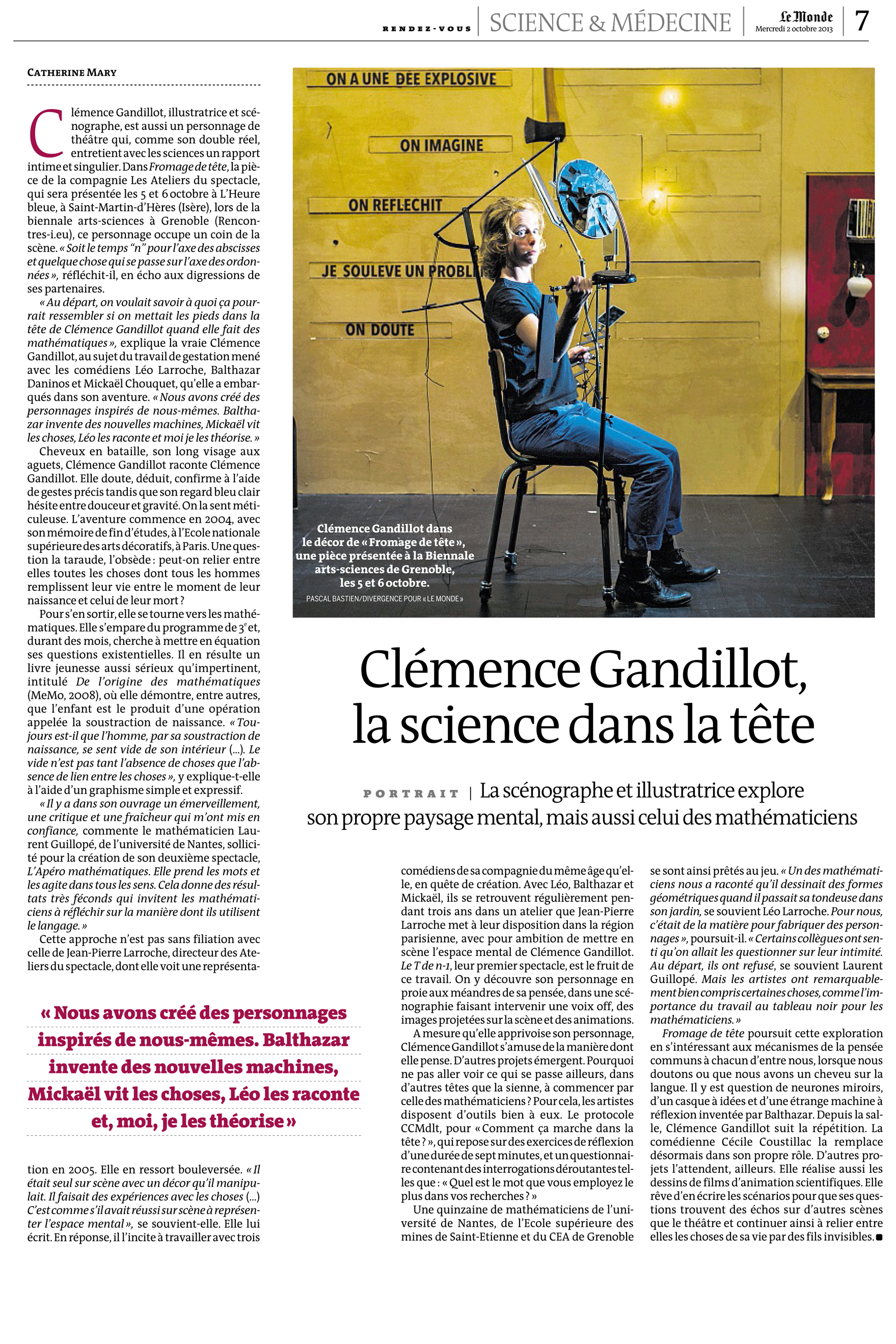 De l'origine des mathématiques est disponible an japonais !
De l'origine des mathématiques est disponible en coréen !
Cécile Coustillac et Johanna Kothals Altes jouent Clémence Gandillot 
- et mieux que moi ! - dans le t de n-1  !
...

Aude Lavigne m'a invitée dans son émission la vignette sur France culture !

Vous pouvez écouter l'émission en cliquant ci-dessous

Le 17 septembre, un joli cadeau d'anniversaire :
un article dans un journal allemand.
Quelqu'un parle allemand ?